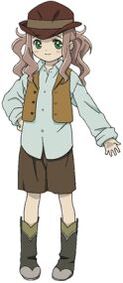 Background
Edit
How such a cute little girl like Lirio became the companion of the bounty hunter Ricardo is a mystery. Though not related at all to Ricardo, she would be his constant traveling partner as the two shadowed Nadie and Ellis. She also developed a fondness for the two fugitives as they made their way south.
All during the series, Lirio never seemed to speak. However later on when it became apparent that Nadie and Ellis had died as a result of actions by Douglas Rosenberg, it was found that, not only she can talk but also has adult-level intelligence and wisdom, and used it to tell Jody Hayward about her own Witch powers, which Hayward used to save Ellis, and Ellis then saved Nadie. At the end of the series, it was learned that she insisted that Ricardo teach her how to throw a boomerang.
Voice Actors
Edit
Ad blocker interference detected!
Wikia is a free-to-use site that makes money from advertising. We have a modified experience for viewers using ad blockers

Wikia is not accessible if you've made further modifications. Remove the custom ad blocker rule(s) and the page will load as expected.