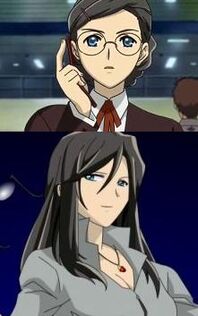 Background
Edit
Jody Hayward, also known by her codename 'Blue Eyes', was first seen working for the same agency as Douglas Rosenberg - the Central Intelligence Agency, working as a mousy, put-upon auditing clerk. However, this is nothing but a ruse, for she is working with the surviving Witches in trying to sabotage Rosenberg's work with Project Leviathan, the recreation of the race through Ellis. Hayward is also descended from the Witches, but has yet to exhibit any of their powers.
Initially, she had employed Nadie as a guardian for Ellis while she gathered evidence of Rosenburg's work, while at the same time Rosenburg enlisted Ricardo and Lirio to watch over Ellis, as well as L.A. monitoring Ellis. However, when the time came for Hayward to take over, Nadie rebelled, leaving Hayward to try to force Ellis away from the bounty hunter.
Voice Actors
Edit
Ad blocker interference detected!
Wikia is a free-to-use site that makes money from advertising. We have a modified experience for viewers using ad blockers

Wikia is not accessible if you've made further modifications. Remove the custom ad blocker rule(s) and the page will load as expected.