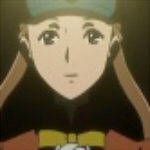 Iris Gonzales is a character from Episode 9, "A Woman Who Digs". Living in an abandoned silver mine, she met Nadie and Ellis when they hid in the mine while evading a bounty hunter. A college graduate, Iris is trying to fulfill her father's wish in finding 'La Cruzes de Plata' - a large silver crucifix that had been hidden in the mine 500 years before.
Even though she lives underground, Iris always seems to follow her sister's advice in dressing well, as she often works in a nice dress. During the crisis involving the bounty hunter, Nadie criticizes Iris for blindly following the wishes of her dead father and not following her own wishes.
Ad blocker interference detected!
Wikia is a free-to-use site that makes money from advertising. We have a modified experience for viewers using ad blockers

Wikia is not accessible if you've made further modifications. Remove the custom ad blocker rule(s) and the page will load as expected.