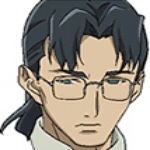 Background
Edit
Dr. Heinrich "Heinz" Schneider was the principle scientist of Project Leviathan, and the scientist who was in charge of developing Ellis' powers. Isolated in a large house in the country, he was having trouble doing such that. Unknown to the two of them, the person in charge of the project, Douglas Rosenberg, began using cruel tactics to bring-out Ellis' potential.
Originally detached from the girl, Schneider began to care for the girl, while at the same time beginning to suspect Rosenberg's motives. Finally deciding to abandon the house, both Schneider and Ellis celebrated a Thanksgiving dinner together. However, Rosenberg showed-up and fatally shot Schneider. Dying, Schneider urged Ellis to flee.
Voice credits
Edit
JAPANESE - Shinichiro Miki (三木 眞一郎)
ENGLISH - Christopher Bevins
Ad blocker interference detected!
Wikia is a free-to-use site that makes money from advertising. We have a modified experience for viewers using ad blockers

Wikia is not accessible if you've made further modifications. Remove the custom ad blocker rule(s) and the page will load as expected.