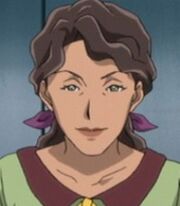 Background
Edit
A character in the second episode "A Woman Who Waits", Frida is the owner of a cafe and gas station along the road where Nadie and Ellis' Jeep had broken down. A rather intimidating woman, she hates bounty hunters, and really gives Nadie a hard time, giving her tough jobs for accidentally breaking a pinball machine while doting on Ellis.
But Frida has a darker secret - she used to be a bounty hunter herself, and a good one. That all changed when her young daughter Maria placed herself into an orphanage when she found out about her mother's occupation; her last words to Frida being 'murderer'. Deciding to win her daughter back, Frida gave up the business, hoping one day that Maria would eventually return to her.
Voice credits
Edit
Ad blocker interference detected!
Wikia is a free-to-use site that makes money from advertising. We have a modified experience for viewers using ad blockers

Wikia is not accessible if you've made further modifications. Remove the custom ad blocker rule(s) and the page will load as expected.